Looking for one of the best paying supply teaching agencies then you're in luck. Airsupply offers you the opportunity to set your own rate of pay! And, that's not where it ends either. Airsupply also offers additional supply teacher benefits, rewards and wellbeing for our teachers.
Airsupply - Better pay, benefits, wellbeing & rewards
Work 40 days for us and you'll receive a fully funded Perkx rewards scheme. Perx gives access to a 24/7 telephone & online GP, offers discounts across 1000's of household-named brands and there's also CPD support included! 
In addition to being one of the best paying supply teaching agencies, Airsupply also rewards teachers that choose to work with Airsupply for 40 hours or more each month with a fully funded supply teacher benefits and perks package via Perx Rewards. This is a new introduction to help our teaching staff to stave off at least some of the cost of living crisis.
Stretching out a salary in 2023 is a lot harder than it was in 2021, so leveraging a range of discounts on regular shopping at Asda, or Tesco can make a huge difference over your year. Typically Airsupply/Perx users save over £1900 in savings based on usual spending patterns. Perx also provides a 24/7 GP service and even CPD support.
See the full range of Airsupply teacher benefits on our dedicated page.
In the words of our very own CEO and joint founder Duncan Verry
"We are determined to change the world for supply teachers. Marginalised and mistreated for too long, better pay for supply teachers will always remain our priority"
You can read more about Duncan's thoughts about supply teacher benefits and pay, alongside his thoughts for the future of supply teaching in our recent blog post - focus on-teacher-pay. In this article Duncan describes how Airsupply is helping teachers navigate the recent cost of living crisis, alongside creating the future model that one day will be how all supply teachers will prefer to work.
How Airsupply became one of best paying supply teaching agencies 
When Airsupply entered the supply teaching arena in 2018, the agency model was in a state of stranglehold. Only a handful of agencies had sufficient infrastructure to supply regular work to supply teachers. Against the promise of being large, and therefore more likely to offer work, a huge slice of the teacher's pay was taken in exchange for access to opportunities. 
Duncan Vessey, the CEO and joint founder of Airsupply entered the market to disrupt that status quo, to create one of the best-paying supply teaching agencies. With the backing of Twinkl and other organisations that cared about teachers, the Airsupply platform was created. The supply teaching industry needed a simple-to-use platform that could be used on a desktop or mobile phone app. A platform that simultaneously reduced agency overhead and also reduced administration for schools. This way work is efficiently allocated, without costs running away. With lower agency costs, and lowered costs to schools the teacher receives better pay. 
"As a supply teacher, working with Airsupply means the balance of payment is awarded to the person actually doing the work, you!"
Working with Airsupply typically results in significantly higher payments than offered by other agencies. This accumulates into huge differences over the course of a month or a year.
On top of that, Airsupply provides a funded Perx package for 12 months for teachers that work 40 Airsupply days a year. Teachers choosing fewer hours can still obtain the Airsupply Perx benefit, for a small monthly contribution of £4.50, which still offers great supply teacher benefits and savings. Perx typically saves users over £1900 a year. 
You're no doubt sensing by now that Supply teacher pay is close to our hearts at Airsupply. We've made it our mission to put teachers first.
When working with Airsupply, firstly, we encourage you to set your own pay rate, perhaps based upon your current pay scale for example. Remember that there are usually around 195 school days in the year. So, to work to your usual pay scale you'll need to calculate your supply teacher day rate aggregated to 195 days. 
Working to salary scale - Know your supply teacher pay rates
To calculate your rate, based on your scale we'd suggest you consider how a day rate would need to be adjusted to allow for school days in a year. A regular teacher is paid 365 days a year, whilst a supply teachers pay is aggregated to the number of working days in school. 
So, to calculate your supply teacher day rate divide your annual salary based on your scale by the number of school days during the year, typically 195 days. This figure is the daily rate you should set for yourself in line with your experience and abilities.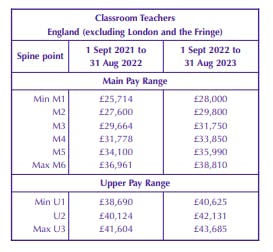 https://www.nasuwt.org.uk/static/c4b7b523-eeb7-4f92-bd1fa0d8d97bb250/Teachers-Pay-Scales-2022-England-exc-London.pdf
Taking the above example, a Min M1 teacher in the main pay range above would divide £28,000 by 195 days to calculate the payments to scale of £143.00 per day. 
Teachers on a Max M6 spine point would be £199 per day based on 195 working school days. 
These are gross figures, so of course, tax and NI will be deducted. 
You may find that as you progress in your supply teaching role you adjust your rate periodically. Ultimately performing these calculations helps you to set your levels based on your experience level and true worth. Of course, some agencies are not going to be able to pay to scale, so bear in mind, not all agencies are equal in that regard. Of course, we'd encourage you to look at Airsupply as your first choice. In any event, we'd encourage you to push back if your pay is not in line with your worth. 
The future model for the best-paying supply teaching agencies 
Working to scale means working with an agency that can offer a day rate which matches or exceeds your usual teaching scale. To achieve this, you'll need to work with supply teaching agencies that can operate efficiently, effectively leaving the lion's share for you. It's no accident Airsupply is one of the best paying supply teaching agencies. We designed our whole business to deliver fair, better paid supply teacher work in schools that suit you.  At Airsupply we've made this our mission. 
If you'd like to know more, you can register as a teacher or chat with our team on  0330 122 6629. You'll also find us on Facebook here, whilst you're there why not join our new teacher group? We're hoping to liven up the supply teacher conversation, so why not add your voice? 
Enjoyed this article? We'd suggest a read of Adam's story 
Adam's story - A great read from a former supply teacher 
Airsupply is supported by Twinkl, and recently we were lucky enough to capture the experiences of a former supply teacher - now using his experience in education to help those who teach. Adam's thoughts are a reminder of how tough supply teaching can be when working with some of the largest agencies. Adam describes his fight for pay, work and the challenges he faced whilst on the books of one of the largest agencies. It's an eye-opener and worth a read. Lots of great tips for supply teaching in there for new teachers and veterans alike. Adam also looks at how supply is changing and the new way of working for supply teachers, along with his thoughts about the Airsupply platform.
Find better paid supply teaching jobs
Airsupply teachers typically earn £30 per day more, doing work they choose.
Are you a school?
Find out more